'Ocean's Twelve' Stars on 'Moral Values'
Clooney, Damon, Pitt, Zeta-Jones and More on Hollywood vs. the Heartland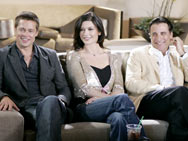 Brad Pitt, Catherine Zeta-Jones and Andy Garcia, along with George Clooney, Don Cheadle and Matt Damon, spoke to Diane Sawyer about their upcoming film, "Ocean's Twelve." (Craig Sjodin/ABC News)

Dec. 2, 2004 —
In the new film "Ocean's Twelve," a variety of Hollywood A-listers play professionals, each with a special skill, who band together to pull off a gambit none of them could accomplish individually. The film might be seen as a metaphor for real life.
When movie stars come together, they're often recognized as a force to be reckoned with — and not just at the box office.
Six of "Ocean's" stars — George Clooney, Brad Pitt, Matt Damon, Catherine Zeta-Jones, Andy Garcia and Don Cheadle — recently sat down with ABC News' Diane Sawyer for an exclusive interview about family, fame and public perception.
After one of the most heated presidential campaigns in recent memory, Saywer asked them to reflect on the outcome, the importance of moral values and the idea they are on the opposite side of that dividing line.
"We are, in fact, at times defensive of the idea that there's this disconnect between us and the rest of the country," Clooney said.
"We are actually, all of us, conservative, not liberal, whatever … We are reflections of that society. And we're a product of it."
Movie stars who grew up in Middle American families are troubled by the idea that the country does not think they belong to them.
Pitt grew up in Missouri with an upbringing he describes as "Baptist and then a more nondenominational charismatic kind of movement."
Asked if Hollywood endorsements hurt candidates, Pitt said, "I think it has to some degree."
Hollywood vs. the Heartland
Clooney had a very personal interest in the recent election. His father, Nick, ran as a Democrat for an open House seat in their home state, solidly Republican Kentucky. The actor realized he wouldn't be considered an asset for the candidate.
"I couldn't campaign for my father, you know," he told Sawyer. "It's Hollywood vs. the Heartland."