'Ocean's Twelve' Stars on 'Moral Values'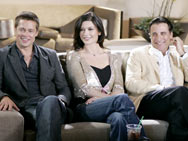 (Page 2 of 2)
In fact, Republican candidate Geoff Davis attacked Nick Clooney through his son. "There will be a clear contrast between the values of this district and the values of Hollywood," Davis said on the campaign trail.
Nick Clooney — who was well-known in the area as a local TV news anchor and newspaper columnist as well as the father of George and brother of the late singer Rosemary Clooney — lost by roughly 10 percent. Despite the disappointment, the younger Clooney is glad his father ran — but says he had no special words of advice for him.
"He's a grown-up and he's been a grown-up a lot longer than I have," Clooney said.
Different Backgrounds, Different Values
The "Ocean's" stars come from varied backgrounds. Clooney describes his as Kentucky Methodist: "Fire and brimstone."
The Cuban-born Garcia and Welsh actress Zeta-Jones were raised Catholic. Cheadle is from an African Methodist Episcopal background. And Boston-bred Damon says his family is Protestant.
They point out that they travel the world trying to help, supporting charities. But they say they are puzzled as to how they wound up being seen as opposed to the rest of the country's values.
Asked why they thought so many actors were Democrats, Clooney responded rhetorically, "Why are so many African-Americans Democrats? I think it has to do with tolerance."
Cheadle said their politics may come from the job, because acting requires them to understand and identify with people from all walks of life.
"We look at and try to humanize people that are in those positions, because we often play them," he said. Acting, he said, makes you "not as willing to label and dictate to other people what is right and wrong."
Damon agreed.
"It's not good-evil, this-that, black-white, it's more complicated than that," he said, "because people are more complicated than that."
Garcia said he just hopes everyone in America wants to celebrate different views, which he called the most American thing of all.
"The important thing is that you have the ability to express yourself," he said. "I come from a tragedy where you cannot be free. We came to America 'cause my father wanted me to enjoy those freedoms."