Smart marketing helps the cosmetics industry

Taiwan's cosmetic business is growing with a solid base of skin-care products and a steady 5 percent annual growth in makeup and perfume sales

By Diana Freundl
STAFF REPORTER
Thursday, Mar 24, 2005,Page 13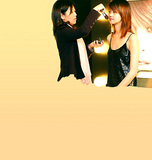 Increased sales prompted Elizabeth Arden cosmetics to invite two professional artists from Australia to train their counter staff on makeup application.
PHOTO COURTESY OF ELEA COSMETICS INTERNATIONAL CORP


Until recently, Taiwan's skin-cream options were few, perfume options were fewer, and apart from a narrow range of lipstick shades, makeup was rarely visible. Now many cosmetics counters and bathroom cabinets are saturated with a selection of beauty products. The increase in sales is a reflection of both marketing strategies and new products launched exclusively for Asian consumers.

The Taiwan cosmetics industry was valued at NT$65 billion last year. While skin care products account for nearly half of the total sales, it's the steady five percent annual growth in makeup and perfume sales that pleases cosmetic industrialists.

"The growth in the market is not only attributable to older women. Researchers are witnessing a trend among younger women to wear makeup and the shopping potential of teenage girls is getting stronger. So we are now exploring this market," said the sales director of Elea Cosmetics International Corp, Allen Yen (ÄYªZ¶©).

The Asian niche

The perception that Japanese skin care products were more suitable for Asian women held sway over the Taiwanese market for nearly 10 years until European and US brands began introducing their own skin-whitening creams. In the late 1980s, Elizabeth Arden was one of the first import companies to combine an anti-age ointment with a skin-lightening toner. Now every high-end and mid-range import brand offers its own extensive line of whitening concoctions.

More recently, brands have expanded their "Asian only" whitening creams to include makeup. Next month Chanel will introduce six new shades available only in Japan and Taiwan to its Aqualumiere lipstick line.

Chanel leads cosmetic sales in Taiwan, and Chanel communication manager, Jessie Lee (§õ²Qµ×), cited strategic marketing as a major contributor.

"Before, most people thought Chanel was for mature, older women and that it was too expensive?. Then we presented campaigns to give Chanel a new image that would appeal and attract younger costumers," Lee said, citing the example of "Chance," a light floral-based perfume marketed to teenage girls a few years ago. The scent departs from Chanel's trademark pungent perfumes.

Chanel's success with its fragrance line is a major achievement in a market that has never made much of an impact in Taiwan until now. East Asia (South Korea, Japan, Taiwan and China) records the lowest fragrance sales according to Yen, who is also a representative for the US cosmetics company Elizabeth Arden.

Arden, which is most widely recognized for its perfume line, is testing the market with an entire line of 40 green-tea-scent products that it intends to introduce over the next year. To commemorate the launch of its Green Tea perfume, Arden's spokes model, Catherine Zeta-Jones, was flown to Japan and dressed in a kimono

The allure of celebrity

Celebrity endorsements are nothing new to the cosmetics industry but their increased potential is being registered.

Following Chanel's extravagant advertisements last year starring Nicole Kidman, the brand's No. 5 perfume became the best-selling fragrance in Taiwan. It also lured in new and curious customers, Lee said.

"Normally fragrance doesn't get much attention, but this commercial brought a lot of people to our counters who saw the ad and wanted to smell the perfume. Even those who felt [No. 5] was too mature for them, would have an opportunity to try other perfumes."

Likewise, Japan's and Taiwan's brand names have also realized the potential of product endorsement and have begun using local celebrities in their ads.

SKII's economy line for young women, Maxfactor, uses Hong Kong pop idol Karen Mok (²ö¤å½«) in its latest "sweet and spicy" eye makeup campaign.

Given the global recognition of both Kidman and Zeta-Jones, representatives at both Chanel and Arden said there were no immediate plans to follow suit and hire local celebrities.

Expert advice

A tactic that both import and local brands are employing is hiring experts behind the counter to instruct women on how to apply their purchases. Public workshops on makeup application are becoming commonplace in locations ranging from Watsons to department stores.

Samson Hsiao (¿½»F¦ë) is a professional makeup artist hired by Elizabeth Arden to give client consultations. Having spent four years working for major high-end cosmetic companies, Hsiao spends five days a week traveling to different counters in Taipei's department stores.

He said the key issue for most women is learning how to select and apply makeup so that they get the best results. During an appointment he determines a costumer's skin type and chooses appropriate makeup shades.

"People are spending more money on their appearance but they must also spend a little time on learning how to use their new products," Hsiao said.
This story has been viewed 125 times.