Zeta-Jones reveals wedding secrets
Monday, March 6 2006, 17:19 GMT - by Miriam Zendle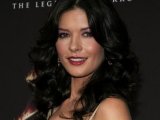 David Gabber / Photorazzi
Catherine Zeta-Jones has revealed what went on behind the scenes prior to her marriage to Michael Douglas.
The
Zorro
actress discovered Douglas was planning to wear a suit that was not only too small for him, but had been worn in 1998 thriller
A Perfect Murder
.
Zeta-Jones explained: "I said three days before we got married: 'Do you have a tuxedo?' and he said breezily: 'Yeah, I'm going to wear the one I wore in
A Perfect Murder
.'
"I said: 'No, you're not. I'm sorry, that's a bad vibe right there. He tried it on and it was two inches too small. I would have died. I would have walked back up the aisle. We had to find a new one."