---
The Daily Mail has pictures of Oscar-winner Catherine Zeta-Jones in 'Death Defying Acts,' a Harry Houdini biopic. Zeta-Jones stars opposite Australian Guy Pearce in the film, set in the 1920s. Plot summary below.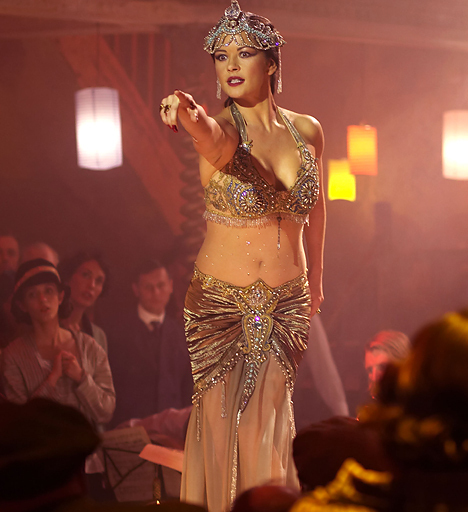 Here's a movie summary and it's IMDB profile. From the summary:
In Death Defying Acts, acclaimed director Gillian Armstrong - whose films consistently portray unique individuals possessed of amazing strength of will - tells a spirited romantic tale about Harry Houdini and his fleeting connection with a struggling Scottish con artist. The film features Guy Pearce and Catherine Zeta-Jones as two people wedded by their shared respect for sleight of hand but divided by circumstance, who suddenly find themselves in the throes of an impossible love.

It is 1926. Houdini (a resonant performance by Pearce) is an international superstar. His reality-bending exploits - he escapes death by drowning, time and time again - have captured the imagination of young and old around the world. But behind his brave smile and alluring charm, Houdini is tortured. His fame isolates him and makes him vulnerable. He is also consumed by regret over missing his beloved mother's last words. On a tour in Scotland, he announces that his next great feat will be nothing less than proving the existence of an afterlife. His lucrative ten-thousand-dollar reward for anyone who can contact his mother from beyond the grave entices a wide and wacky array of would-be mystics and so-called spiritualists. It also catches the attention of a stunning if rather conniving psychic named Mary McGregor (a smouldering, soulful Zeta-Jones), who is accompanied everywhere by her loyal sidekick and impish daughter, Benji (Saoirse Ronan).
Saoirse Ronan is up for an Oscar for her role as the precocious youngster in "Atonement".
Comments for this post are now closed